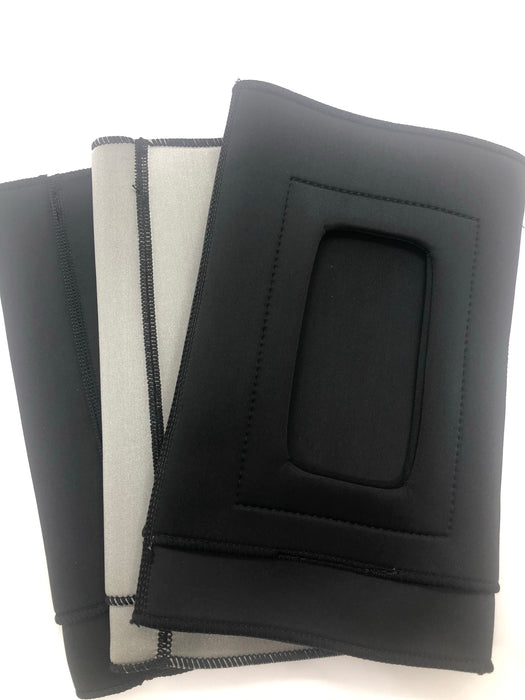 Classic with Mirror Access VisorSleeves
Sizing
Visor Sleeve dimensions:
Medium: 10 in x 6.5 in (3 pockets)
Large: 11 in x 8 in (3 pockets)
Mirror hole opening dimensions:
Slide Mirror Medium & Large: 4.5 in x 2.5 in
Flip Up Mirror Medium: 5.5 in x 3.5 in
Flip Up Mirror Large: 7 in x 4.5 in



*Disclaimer: Always measure your vehicle's sun visor from top to bottom (vertical) before ordering to get a perfect fit!*
Info & Care
Tired of looking for items in your vehicle? No more!
Our Classic VisorSleeves with Mirror Access keep your daily commute hassle free. Each Classic VisorSleeve with Mirror Access includes 3 pockets to store items for your daily commute. You can now have your car cup holders back for actual drinks instead of paper, sunglasses, or phones. No more reaching and struggling to find items you need while driving. Drive safely and have your items at your fingertips when you need them.
Simply glide your VisorSleeves over your current vehicle's sun visors and keep your car neat and organized by storing your cell phone, garage door opener, papers, business cards, sunglasses, and so much more into the pockets of your VisorSleeves. 
VisorSleeves also protect your vehicle's sun visor from any dirt and grime. Should you need to clean your VisorSleeves, they are machine washable. It is suggested to machine wash cold, gentle cycle and air dry. Do NOT place in dryer!
VisorSleeves are made with a heavy-duty spandex material. They are durable and hand-sewn. They have multiple pockets creating a compact structure with a sleek surface, preventing items from slipping out.
What's in your Sleeves?
Shipping & Returns
FREE SHIPPING on all orders!
Our Standard shipping is processed and shipped within 7 - 10 business days.
Refunds are 100% guaranteed to unsatisfied customers.